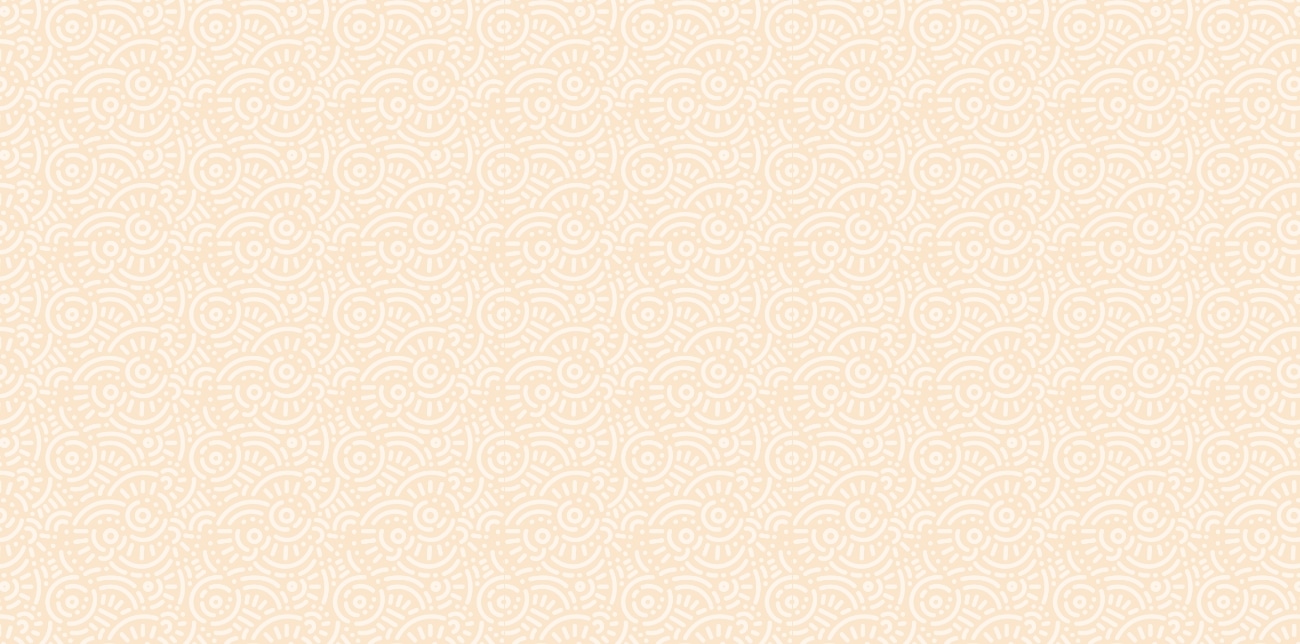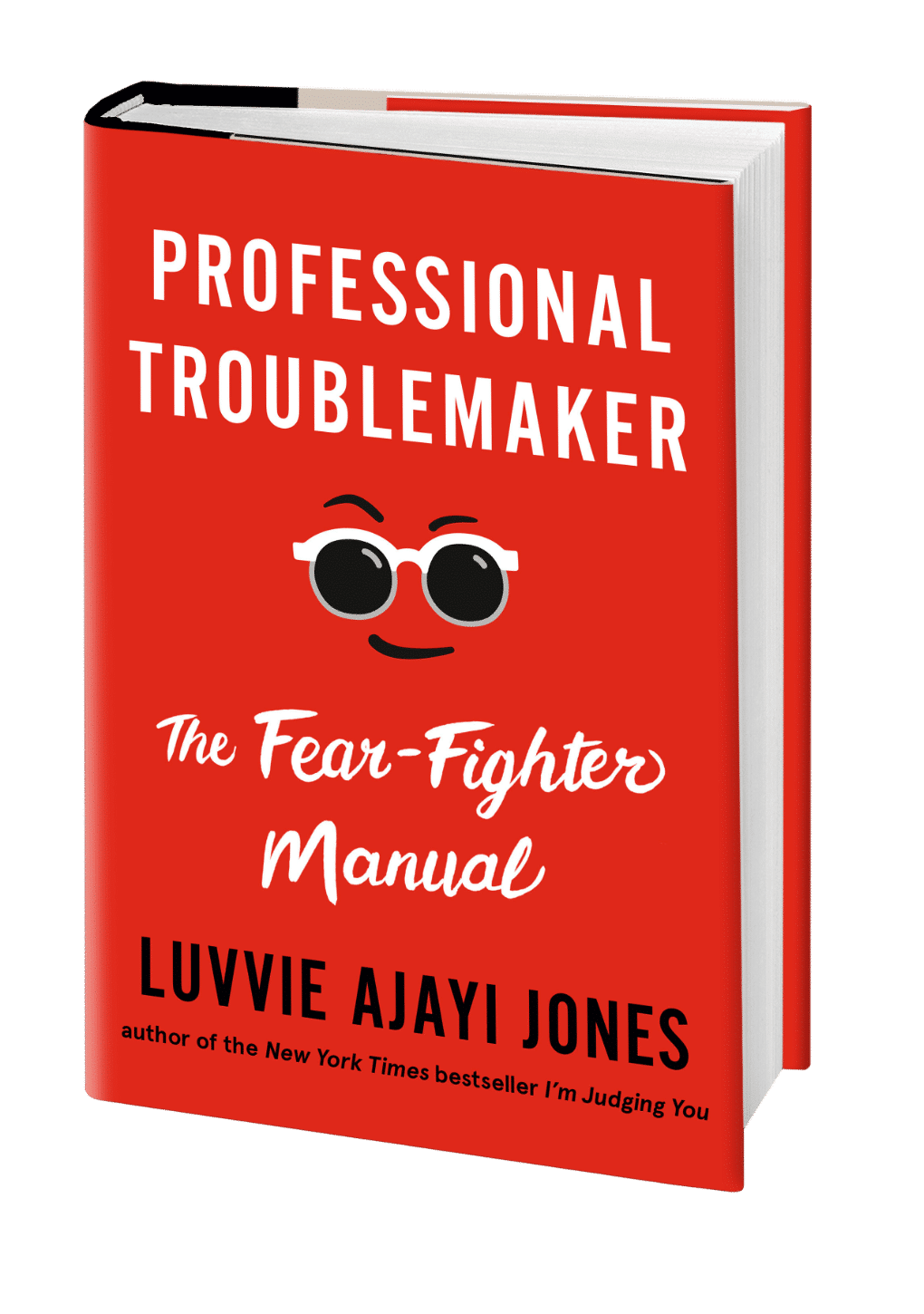 The New York Times bestselling book that loans you the courage to…
Speak the truth.
Be too much.
Live audaciously.
Buy Professional Troublemaker:
Outside the United States? Grab an international edition!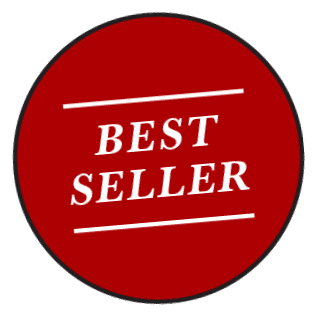 Instant New York Times Bestseller
#1 Washington Post Bestseller
USA Today Bestseller
#1 Amazon Bestseller
Independent Bookstore Bestseller
Airphone Award Recipient
The Wall Street Journal Bestseller
Publishers' Weekly Bestseller
The Los Angeles Times Bestseller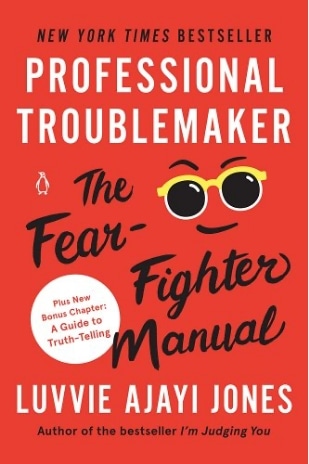 Now available in paperback!

Hardcover Published
March 2, 2021
Paperback Released
December 28, 2021
About Professional Troublemaker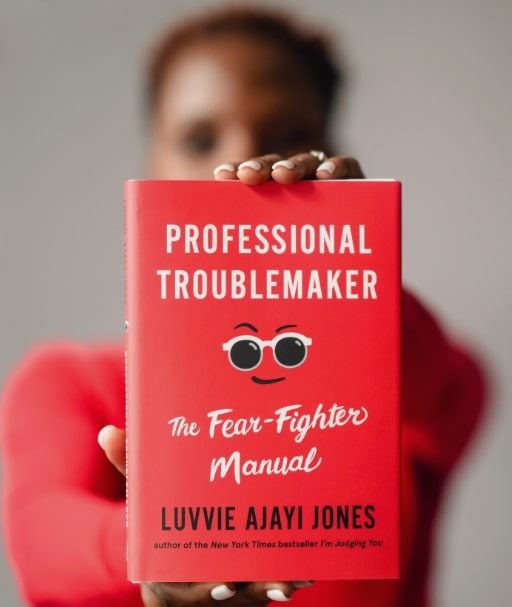 We're all afraid of asking for what we want because we're afraid of hearing "no." We're afraid of being different, of being too much or not enough. We're afraid of leaving behind the known for the unknown.
But in order to do the things that will truly, meaningfully change our lives, we have to become professional troublemakers: people who are committed to not letting fear talk them out of the things they need to do or say.
From the New York Times bestselling author of I'm Judging You, this powerful book that talks about how to tackle fear–that everlasting hater–and live boldly and audaciously in spite of all the reasons we have to cower.
Luvvie Ajayi Jones is known for her trademark wit, warm voice, and integrity. But even she's been challenged by the enemy of progress known as fear. She was once afraid to call herself a writer because she was afraid of the title. She nearly skipped out on doing a TED talk that changed her life because of imposter syndrome. Also, she's deathly afraid of bugs. And, as she shares in Professional Troublemaker, she's not alone.
With humor and honesty, and guided by the influence of her inspiring and professional troublemaking grandmother, Funmilayo Faloyin, Luvvie walks us through what we must get right within ourselves before we can do the things that scare us; how to use our voice for the greater good; and how to put movement to the voice we've been silencing–because truth-telling is a muscle.
"The point is not to be fearless. It is to know we are afraid and to charge forward regardless, to recognize the things we must do are more significant than the things we are afraid to do… This book is a middle finger up to fear." – Luvvie Ajayi Jones
Praise for Professional Troublemaker

You could spend. a lifetime and fortune finding the perfect therapist, mentor, minister, career coach, and girlfriend-or Professional Troublemaker. This book is equal parts catharsis and wake-up call, both comforting and galvanizing.
With her razor-sharp mind, soul on fire, and heart of gold. Luvvie is the writer and artist the world needs right now

This book has so much depth, ancestral wisdom and inspiration said in the most delightful way.
It is ancient text, wrapped in hilarious observations, charm and a supportive urging to become more. A blueprint for living with courage and unapologetically standing in your greatness. I legit had my jaw dropped mouth wide open in so many parts, and I felt God all in this book. There is seriously no one like Luvvie, she is 1 of 1.

As an oft-scared chickenhead who cares too much about what others think, it's so comforting to be guided through my own crippling fear and self-doubt by one of the bravest, most incisively honest, hysterical voices I know.
This is the essential manual for anybody who is ready to take that leap of faith to bet on the best, uninhibited, whole version of themselves.

There's nobody quite like Luvvie Ajayi Jones. She's a force and a powerhouse, the thunder, and the lightning – and Professional Troublemaker shows us exactly how she got that way. In a voice that is funny, wise, bold, and always generous,
Luvvie encourages, inspires, and dares us to follow our dreams, fight against injustice, and take up all the space in the room. If this book doesn't make you feel bolder and braver by the final page, then you weren't reading it right. I loved every passionate word of it.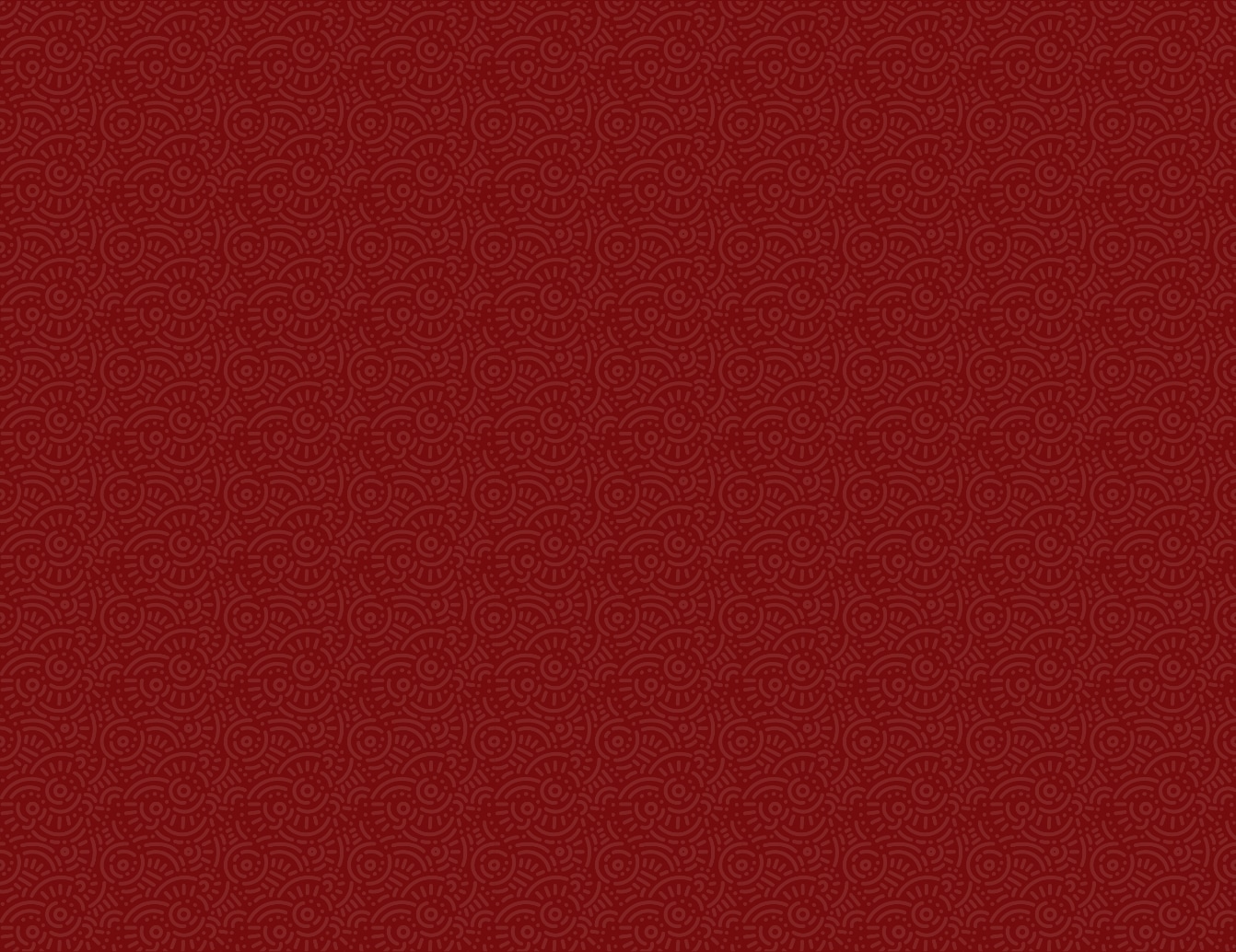 Additional Resources
Get the Professional Troublemaker Toolkit
About the Author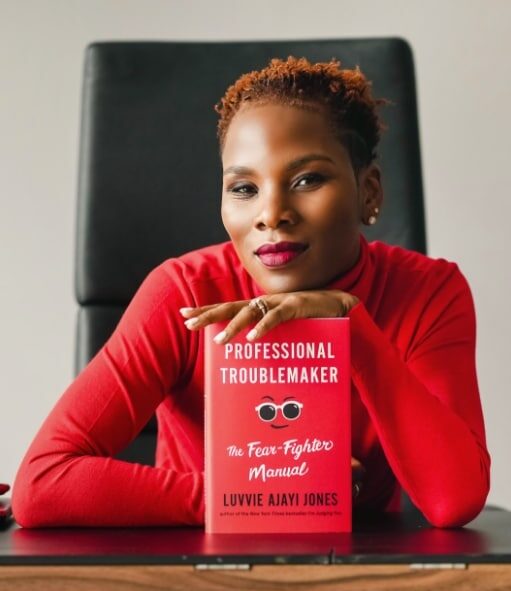 Luvvie Ajayi Jones is a three-time New York Times bestselling author, speaker and podcast host who thrives at the intersection of humor, media, and justice.
Her critically acclaimed books Rising Troublemaker: A Fear-Fighter Manual for Teens (2022), Professional Troublemaker: The Fear-Fighter Manual (2021) and I'm Judging You: The Do-Better Manual (2016) were instant bestsellers and established her as a literary force with a powerful pen. Her newest and first children's book, Little Troublemaker Makes a Mess released on May 2, 2023, and debuted at #5 on the New York Times bestsellers list.
Her renowned TED talk "Get Comfortable with Being Uncomfortable" has over 8.5 million views, has been transcribed into 23 languages, and has placed her in the Top 1% of TED Talks of all time. Luvvie has taken the stage at some of the world's most innovative and disruptive brands, such as Google, Facebook, Microsoft, Twitter, Spotify, Nike, Bank of America, Salesforce, Deloitte, and Clif Bar. She's been a featured speaker at noted conferences such as: Cannes Lions, SXSW, Leadercast, 3% Conference, and MAKERS Conference.
Born in Nigeria, bred in Chicago and comfortable everywhere, Luvvie enjoys laying around in her plush robe, and eating a warm bowl of jollof rice in her free time. Her love language is shoes.
A noted writer, she has contributed to several anthologies (How We Heal, You Are Your Best Thing, Hungry Hearts, Black Girls Rock) and has written for the New York Times, ELLE and Essence. In addition, her work has been featured in outlets such as NPR, Forbes, Inc, Fortune, Fast Company, Chicago Tribune and more. An 19-year blogging veteran, Luvvie writes on AwesomelyLuvvie.com, covering all things culture with a critical yet humorous lens.
Born in Nigeria, bred in Chicago and comfortable everywhere, Luvvie enjoys laying around in her plush robe, eating a warm bowl of jollof rice in her free time. Her love language is shoes.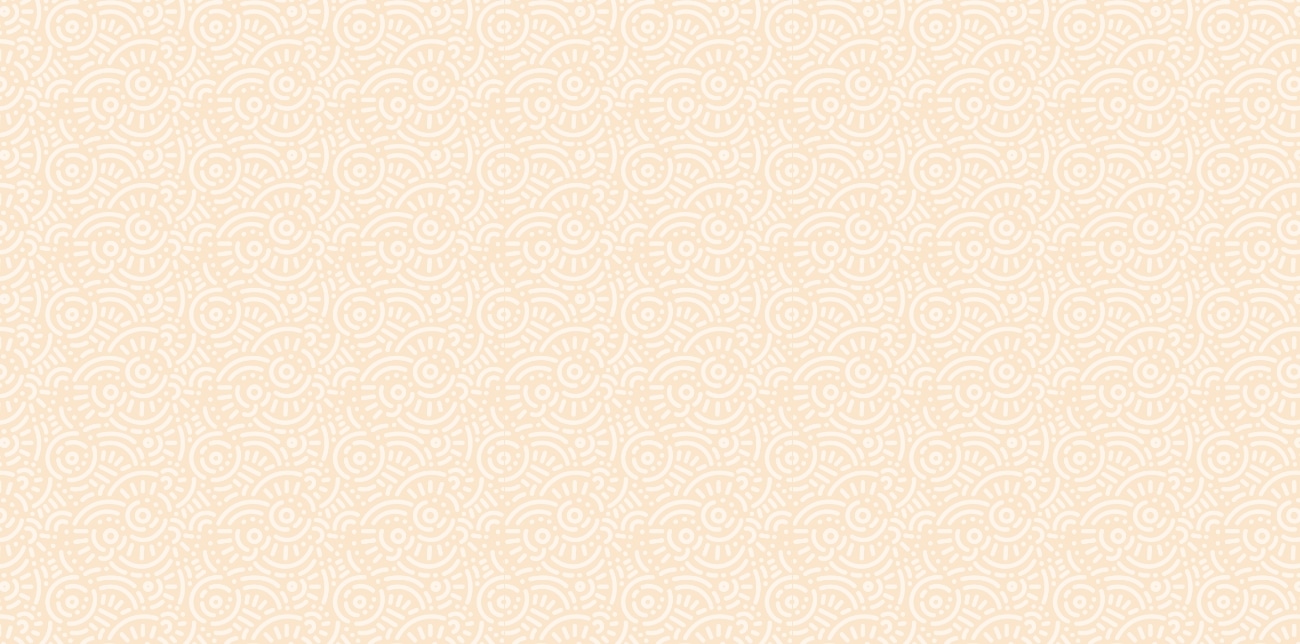 Buy Professional Troublemaker
Outside the United States? Grab an international edition!