Speaker, Author,
Professional
Troublemaker
Luvvie Ajayi Jones is a bestselling author, speaker, and CEO who thrives at the intersection of culture, business, and leadership.
Speaker
Teller of Truth
Innovation is disruption, and that is the approach Luvvie takes when speaking to companies and organizations across the globe.
Luvvie pulls from the well of truth to ensure that attendees have a transformative experience. Her goal is to enable people to take audacious action in culture, leadership and performance. She's spoken at some of the world's most innovative companies like Google, Facebook, Microsoft, Twitter, Spotify, Nike, Bank of America and Salesforce.
Her wildly popular TED talk, "Get comfortable with being uncomfortable," has over 8.1 million views and climbing.
Watch Luvvie's Viral Ted Talk >>
Writer
Bestseller of Books
As a 3X NYT Bestselling author, (Professional Troublemaker: The Fear-Fighter Manual, Rising Troublemaker: A Fear-Fighter Manual for Teens, I'm Judging You: The Do-Better Manual) Luvvie's thought leadership spans over 18 years, covering all things culture with a critical yet humorous lens.
Her singular voice and razor sharp wit has spurred hundreds of thousands of people to feel joy, think critically, and take action that leaves this world better than they found it.
Her work has been featured in the New York Times, Forbes, Inc. Fortune, Essence, The Chicago Tribune and more.
Professional Troublemaker
Professional Troublemaker
Maven of the Microphone
Creating a life that is audacious, bold and whole takes courage, and hundreds of thousands of listeners across the globe have found that inspiration through the Professional Troublemaker podcast.
Through the thought-provoking conversations Luvvie has with her guests – people who have blazed trails in their industries, and made the BEST type of trouble – her listeners find the hope and inspiration they need to do the same.
Get Luvvie's latest book!
This young readers edition of the bestselling Professional Troublemaker inspires teens to be their bravest, boldest, truest selves.
Click the button below to learn more about Rising Troublemaker and how it can help teens create a world they can be proud to live in.
Luvvie's other platforms
The Network
LuvvNation is a space to build community, find courage, and get life and career cheat codes. Also, get some good cackles in! Imagine LinkedIn for disruptors.
The Merch
ShopLuvvie.com
is the online store for the Borders Generation. If you loved sitting in bookstores for hours and geeking out over books and cool gifts, this is for you.
The Blog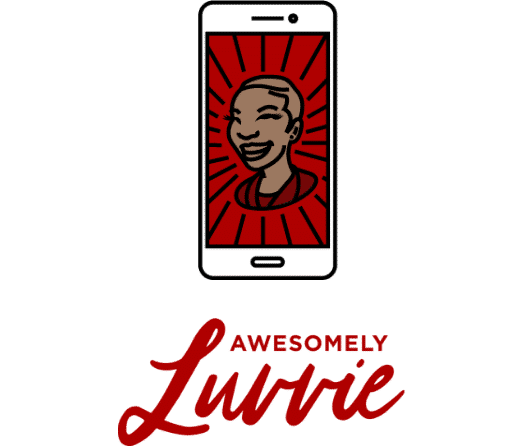 Started in 2006, Luvvie's award-winning blog on all things culture – from TV, and film to race and technology to shenanigans. Come for the recaps, stay for the cultural analysis.