Author, Speaker
Professional
Troublemaker
Luvvie Ajayi Jones is a four-time New York Times bestselling author, speaker and entrepreneur who thrives at the intersection of culture, business and leadership.
Get Luvvie's latest book!
What happens when a big heart gets you in big trouble?
Written by Luvvie with bright, bold art by Joey Spiotto, this funny, sweet story about a tiny rebel with a cause is going to delight the littles you love!
Now available!
Speaker
Teller of Truth
Innovation is disruption, and that is the approach Luvvie takes when speaking to companies and organizations across the globe.
Luvvie pulls from the well of truth to ensure that attendees have a transformative experience. Her goal is to enable people to take audacious action in culture, leadership and performance. She's spoken at some of the world's most innovative companies like Google, Facebook, Microsoft, Twitter, Spotify, Nike, Bank of America and Salesforce.
Her wildly popular TED talk, "Get comfortable with being uncomfortable," has over 9 million views and climbing.
Watch Luvvie's Viral Ted Talk >>
Author
Bestseller of Books
Luvvie's four critically acclaimed books were instant New York Times bestsellers, establishing her as a literary force with a powerful pen.
Her thought leadership spans over 20 years, while her singular voice and razor sharp wit have spurred hundreds of thousands of people to feel joy, think critically, and take action that leaves this world better than they found it.
Her work has been featured in the New York Times, Forbes, Inc., Fortune, Essence, The Chicago Tribune and more.
Books:
Book Coach
Luminary of Literature

As the author of 4 New York Times best-selling books, Luvvie has a deep understanding of the literary world and what it takes to write a compelling book that has appeal in the marketplace.
She's taken her unique experience and depth of knowledge to coach authors and aspiring authors down that same path.
Luvvie is the founder of The Book Academy, where she works with authors from all backgrounds and sizes of platform and helps them discover their book idea, find their voice and craft exceptional books. Through her flagship online course and private consulting, she leverages her vast experience and success in publishing to give clients the guidance they need to go from ideas to ink to impact.
Professional Troublemaker
Professional Troublemaker
Maven of the Microphone
Creating a life that is audacious, bold and whole takes courage, and hundreds of thousands of listeners across the globe have found that inspiration through the Professional Troublemaker podcast.
Through the thought-provoking conversations Luvvie has with her guests – people who have blazed trails in their industries, and made the BEST type of trouble – her listeners find the hope and inspiration they need to do the same.
Want more from Luvvie?
The NewsLetter
Join the LuvvLetter fam and receive Luvvie's weekly thoughts on culture, leadership and business! Plus, her favorite recommendations! 75,000 and counting!
The Blog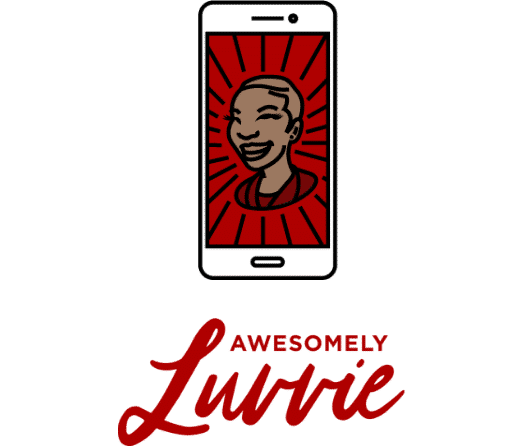 Started in 2006, Luvvie's award-winning blog on all things culture – from TV, and film to race and technology to shenanigans. Come for the recaps, stay for the cultural analysis.
Follow Luvvie Elsewhere
Connect with Luvvie in real time across all her social channels.